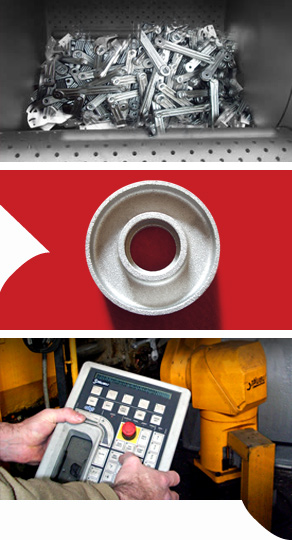 Castings finishings
The die-cast parts are delivered to the customer after a careful control performed within the company.
The main finishing operations are: tumbling, deburring, cutting, abrasive blasting and painting.
Tumble finishing
Technique for smoothing and polishing a rough surface on relatively small castings.
Su richiesta del cliente possiamo ottenere anche la brillantatura.
Deburring
Unwanted pieces of material are removed with a deburring tool.
Cutting
We proceed with the operations of cutting through various tonnage presses.
Sandblasting
A stream of abrasive material forcibly propelled against a surface under high pressure to smooth the rough surface.
Painting
Painting metal objects makes the cast more resistant to wear and to contact with the external environment, extending its duration in time, in addition to the aesthetic improvement of the product.
For painting operations we use paint with epoxy powder with EEC certification.
Control
The quality of the product is followed during all stages of production by qualified personnel, to ensure the perfect customer satisfaction.